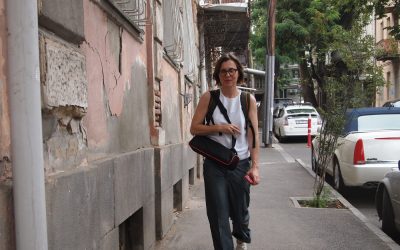 As part of the Creative Europe Platform Magic Carpets, Austrian artist Carmen Brucic spent a artist-in-residency period at Tbilisi Photo Festival in...
read more
Latitudo Art Projects, Rome Nicola di Croce is an architect, musician, sound artist, and scholar. He holds a PhD in Regional planning and public...
read more
This MagiC Carpets story is about the balance. It began on a sunny day in the city district of Wilten. On one plate of the scale, there was energy,...
read more
"Sonic Worlds of the Between" explored the "unheard" sonic dimension of the City. The artists were working with the collected sounds of the city and...
read more
Sonic Worlds of the Between – between the moments in hush and thundering noise of everyday life. Between now and then, closeness and distance,...
read more
The district of Wilten in Innsbruck welcomed two emerging artists to develop the work within the same conceptual framework, exploring the...
read more